We are searching for inspirational Agents who go above and beyond… is that you? You can nominate yourself or be nominated by a customer, friend or family member.
Nominations need to be emailed to contactus@varietychristmasclub.co.uk. Please put 'Nomination' as the subject line.
We will announce the Award Winners in July.
To inspire you, here are the stories of some of our previous winners:
One in a Million Award
88-year-old Leslie Nelson was our One in a Million Award winner. He was an Agent for almost 40 years and only stopped due to health issues. He was nominated by his daughter Carol, who he handed his Agency over to when frequent hospital stays made it difficult for him to continue.
Carol says: "Dad was always very particular that payments were made on time each month and he took great care that his records were completed in his beautiful handwriting for which he has always been well known.
"Dad worked as a store keeper for the electrical stores at Leyland Motors up until his retirement, often working seven days a week to make sure that us four children never wanted for anything. Mum and dad always drummed it into us that you do not live beyond your means.
"The Christmas club was and still is a good way to save for Christmas without going into debt. Christmas was always a special time when we were children and Dad would disappear into his shed night after night creating wonderful handmade toys for us which included bunk beds for Barbie dolls and garages for the boys' toys. To this day mum and dad always enjoy Christmas, in particular spoiling their grandchildren and great grandchildren. They are both the most kind, generous people would do anything for anybody and this award really will be well deserved for Dad."
Leslie was touched to receive his trophy, certificate and £100 Love2shop vouchers.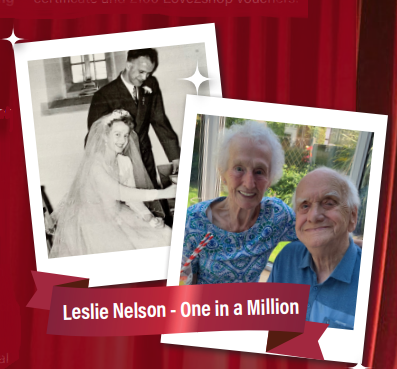 Selfless Agent Award
Joanne Hawcroft had been an Agent for over 10 years. She is the main carer for her husband Chris who has secondary progressive MS and she is always super supportive of their two daughters, Molly and Emily. She was a worthy winner of our Selfless Agent Award.
Emily told her mum: "I think you deserve the award because you are very, very, helpful and a loving person to us three and you always put others first.
When we told Joanne that she was to receive an award she was taken aback and said: "I am so shocked I have been chosen, thank you so much.
"With everything going on in my life, I don't get a lot of time for myself so to win this award is so special for me. I love to see others happy and enjoying themselves. I'm going to treat myself to some things for my kitchen with my £100 Love2shop card, thank you again.
"I absolutely love being a Variety Agent and will be one for many years to come. It has helped me give my girls the presents they want each Christmas without me worrying about how I'm going to afford it."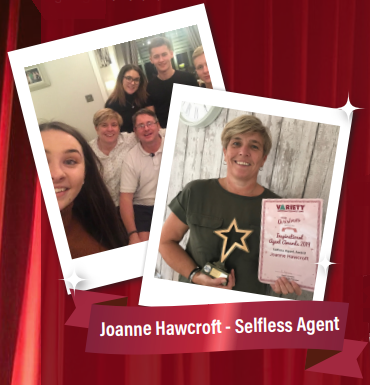 Family of the Year Award
When Agent Moira Nicols first got in touch, she wanted to nominate her daughter-in-law Iona for an award. Iona is one of her customers too.
However, after hearing her story we decided her whole family was deserving of an award so presented them with the Family of the Year trophy and a £100 Tesco gift card. They decided to hold a family BBQ to celebrate and used the gift card to buy food and bubbly.
Iona's story really is inspirational. She started an animal rescue centre with her mother just over 40 years ago and has written a book about the struggles, ups and downs over the years. Since her mother passed away Iona has run Munlochy Animal Aid with her husband Graham (Moira's son). They both have a special way with animals.
Moira told us: "They take in animals of every kind and rehome many. She was awarded the MBE in 2001 and I was so proud. Her book is called Folk We've Met and is brilliant.
"I have been an agent with Variety since 2015 and I use my gift cards and vouchers each year not for Christmas presents but to purchase a lot of the baking ingredients I need for the home baking I do to raise money for the sanctuary. Each time I have a baking stall at an event I can raise as much as £500, which really helps.
"At the sanctuary we look after dogs, cats, sheep, horses, goats, pigs, guinea pigs, rabbits, hens, wild birds like owls, buzzards, red kites, seals and deer and numerous other beasts. Iona and Graham have a busy life and no holidays or days off. Iona's sister Alexis has until recently looked after the feral cats (sometimes nearly 60) and deserves to be recognised too. Thank you so much for this award."