Commission Rates
Variety's fantastic commission rates on gift card and voucher sales cannot be matched by any other Christmas Savings Club. The amount you will receive as a Variety agent will depend on the order value and types of gift cards or vouchers ordered.
We offer the biggest and best range of gift cards and vouchers.  Your customers can save towards whichever they like, with no restrictions. The supermarket gift cards are particularly popular.

The more customers you have, the more commission you will earn. There is no limit to the amount of customers you can have on your Agency and with an average customer order value of £400, it really does pay to help others to budget for Christmas. In 2019, some Variety Agents earned well over £1000!
Boots

4%

Debenhams

4%

The Entertainer

4%

Boohoo

3%

Love2shop gift card

3%

Love2shop gift voucher

3%

One4all

3%

ASOS

2.5%

Sports Direct

2.5%

JD Sports

2%

Love2shop / Intu Combi

2%

M & S

2%

Morrisons

2%

Restaurant Choice

2%

Sainsbury's

2%

Smyths Toys Superstores

2%

Tesco

2%

Asda

1.5%

One4all / Amazon Combi

1.5%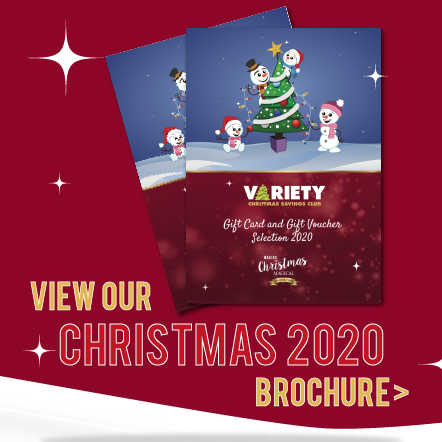 T&Cs: Commission is calculated on final account status. We will calculate this for you based on the above rates, and publish this on your Agency Statement. To qualify for commission your final total order figure must exceed £1,500, you must ensure your Agency is fully paid for by the 1st November, and regular payments must have been sent throughout the year. Variety Christmas Savings Club reserves the right to withhold any commission due if the aforementioned conditions have not been met.