Love2shop– the UK's leading multi-retailer gift card
Gift cards and vouchers are ideal Christmas presents, giving the receiver the option of stores and items to choose from. Love2shop gift cards give you one of the largest ranges of choice in the industry, and as such are becoming extremely popular for people of all tastes. Love2shop gift cards don't just allow you to spend them in shops, but can also be used at a number of attractions such as Alton Towers and Drayton Manor, perfect for a family day out. They really are the perfect gift for people who love to shop!
Where can I spend my Love2shop gift card?
Love2shop gift cards are accepted at a diverse range of retailers, attractions and restaurants all over the UK. New companies are joining the Love2shop gift card scheme all the time, so check the list regularly to see any new entrants. Love2shop gift cards include top clothing retailers including River Island, New look and House of Fraser. See the full breakdown of over 20,00 UK based Love2shop retailers here.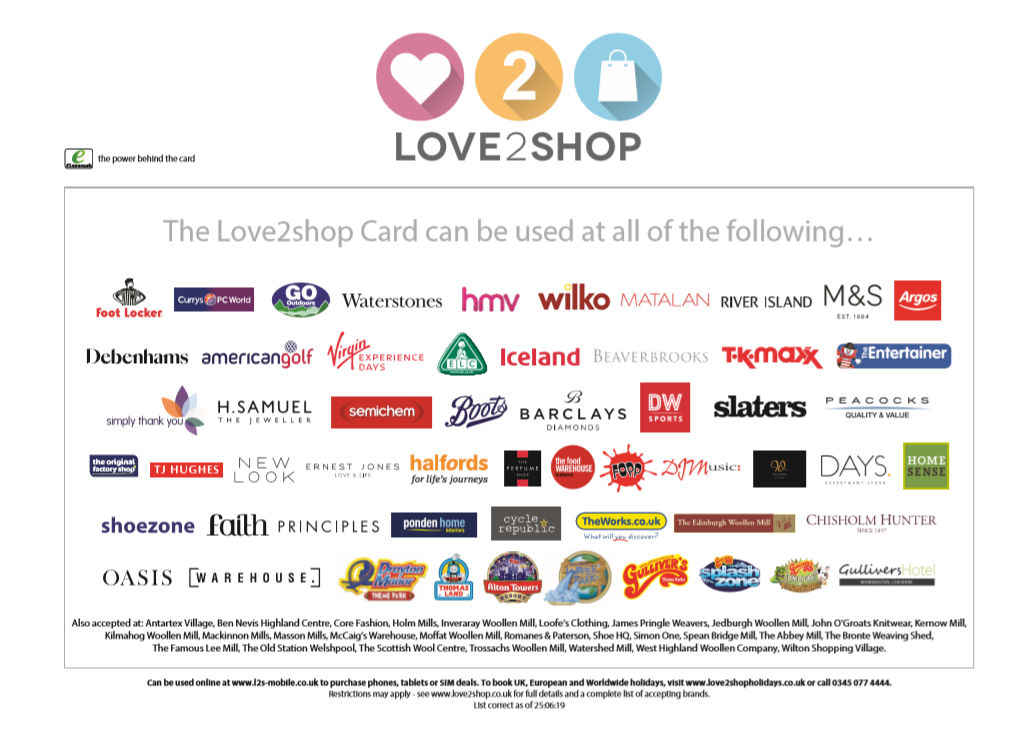 How to save for Love2shop gift cards for Christmas?
We have a variety of savings schemes to choose from, starting in either January or February, allowing you to save up in weekly or monthly installments for Christmas. You can choose from over 16 different gift cards or vouchers, including Love2shop gift card, to either gift to your friends and family, or to spend on presents for them.
How do I check my Love2shop gift card balance? 
Love2shop gift card balances can be checked by ringing Love2shop customer support on 0344 576 0602; or by going on their website at www.love2shop.co.uk; or by scanning the QR Code which is printed on the back of the card (you will need to have a 'QR Reader' App on your smartphone to do that). You can also register the Love2shop gift card at www.love2shop.co.uk to receive text alerts for balance updates (fees apply).
Do Love2shop gift cards have an expiry date?
Most of our Love2shop gift cards are valid for at least 18 months after purchase.
Terms and conditions
Flexecash is the pre-paid card platform which issues the Love2shop cards. This facility is provided by Park Card Services who are Authorised and Regulated by the Financial Conduct Authority to issue electronic money. (FRN: 900016). For the full terms and conditions for card use please see the leaflet the card was attached to. Cards can be suspended if reported lost or stolen and a replacement card issued (fee applies). Please ring Love2shop customer services on 0344 576 0602 quoting the card number which can be found on the front of the leaflet the card was attached to (it is important to keep this leaflet separate from the card).
Find out more